Media Outlets are Promoting Communism
It was a casual Sunday.   My daughter had another grueling two-hour volleyball practice that I use to catch up on whatever project I'm working on at the moment.
Naturally, a lot of scrolling happens during these practices.  During my snoozefest scrolling sesh, I saw it.
An NYTimes Article is romanticizing "Communist" China. Inappropriately titled, "The Land that Failed to Fail."
Now, this is the second time in recent months I've seen a magazine article romanticizing the concept of Communism.  The last time was Teen Vogue of all places.
Everything You Should Know About Karl Marx https://t.co/FoXZXKGN55 pic.twitter.com/5SjYmPkcI4

— Teen Vogue (@TeenVogue) May 12, 2018

A growing discontent for capitalism and a resurgence of Communism or "Democratic Socialism" (as some on the Left like to use as a disguise for Communism) is spreading in the United States.
Let's focus on this one particular article about the success of Chinese Communism though.  It says,
In the uncertain years after Mao's death, long before China became an industrial juggernaut, before the Communist Party went on a winning streak that would reshape the world, a group of economics students gathered at a mountain retreat outside Shanghai.
The article goes on to boast the massive growth of China's economy in the past 40 years as some Communist Christmas Miracle.  This miracle defied all odds and didn't fail when everyone said it would.
Why is this article idolizing Communism as some socioeconomic beacon of success?
Seriously? Has this writer ever been to China?
Every nation that attempts Communism fails, including China.  The only thing remaining in China that is Communist is the political party that should have but didn't abandon the name after it failed.
Don't believe me?  Let's look at some history and most importantly, some facts.
A Brief History
Mao Zedong defeated the existing Chinese regime in 1949.
Immediately after, he brought true, authentic Communism to the people of China.
Communism is not Love.

Communism is the hammer which we use to crush the enemy. -Mao Zedong
His first order of business was equally distributing all land among the people.
Next, he centralized all means of production under the control of the state.  Agriculture shifted to a system of collective farming.
Landlords and capitalists were suppressed and stripped of all property and wealth.
Mao's Great Leap Forward was a massive failure that led to famine and death of its citizens.  This failure inevitably led to Mao tightening his grip on the population.  Any critics of his radical ideology were imprisoned or killed.
Political powers grows out of the barrel of a gun. -Mao Zedong
The Communist reign of Mao ultimately led to the death of up to 80 million people and China was only freed of the tyranny in 1976 when he finally died.
Communism did fail in China.  What is left does not even remotely resemble Communism.
Since the NYT author failed to examine the facts, we took the liberty to do it for him.
The Ten Planks of Communism
Let's look at the ten basic tenets of Communism.
Abolition of Property in Land and Application of all Rents of Land to Public Purpose.

A Heavy Progressive or Graduated Income Tax.

Abolition of All Rights of Inheritance.

Confiscation of the Property of All Emigrants and Rebels.

Centralization of Credit in the Hands of the State, by Means of a National Bank with State Capital and an Exclusive Monopoly.

Centralization of the Means of Communication and Transport in the Hands of the State.

Extension of Factories and Instruments of Production Owned by the State, the Bringing Into Cultivation of Waste Lands, and the Improvement of the Soil Generally in Accordance with a Common Plan.

Equal Liability of All to Labor. Establishment of Industrial Armies, Especially for Agriculture.

Combination of Agriculture with Manufacturing Industries; Gradual Abolition of the Distinction Between Town and Country by a More Equable Distribution of the Population over the Country.

Free Education for All Children in Public Schools. Abolition of Children's Factory Labor in its Present Form. Combination of Education with Industrial Production.
Now Let's Compare with China
Abolition of private property- Nope.  You can own a home in China.  Granted, you don't own the land it is on, but real estate is a booming industry in China. By a Marxist definition, the land is not used solely for the public purpose.  In fact, the state issues 70 year leases on land
A Heavy Progressive Income Tax- Again, not even close.  The tax rate for most Chinese is lower than many countries like Japan and the Nederlands.
Abolition of Rights of Inheritance- Wrong again.  Here is the Law of Succession in the Peoples' Republic of China.
Confiscation of Emigrants and Rebels- Partially correct.  Foreigners can own a home in China as long as they have lived in the country for 12 consecutive months.  Although, I'm not sure why anyone would want to.

Centralization of Credit, Banks, Capital, etc.- 

Noooooooope.  There are privately owned banks in China.  The government stifles their businesses with regulations, restriction of assets and laws, but they exist.

Centralization of Means of Communication and Transportation- No.  Independent and privately owned transportation and communication exist.  It was previously under State control. However, this was one of the economic reforms implemented in the 80's and 90's. It must be stated that the media, the internet and other forms of communication are heavily supervised by the State though.
Production/Means of Production Owned by the State- No. The transition away from SOE (state-owned enterprise) was one of the first economic reforms of the 80's and 90's when China was removing the layers of Communism from their economy. In fact, the private sector was responsible for 70% of the economic growth once China was free from Communism.
Equal Liability To Labor- Borderline accurate.  China does command one of the world's most massive armies. However, in terms of Marxism, China does not meet these requirements any longer.
Combination of Agricultural and Manufacturing Industries; In other words, the elimination of class separation- Definitely not.  There is a pretty significant distinction between wealth and class in China.  The nation of China boasts an impressive 476 BILLIONAIRES. The only country that beats them is the United States.
Free Education- Yes and no.  State-owned and operated are the preferred secondary education.  However, they are incredibly competitive.   Also, there are fees and tuition costs, but China's student debt is virtually non-existent.
What Remains of Communism in China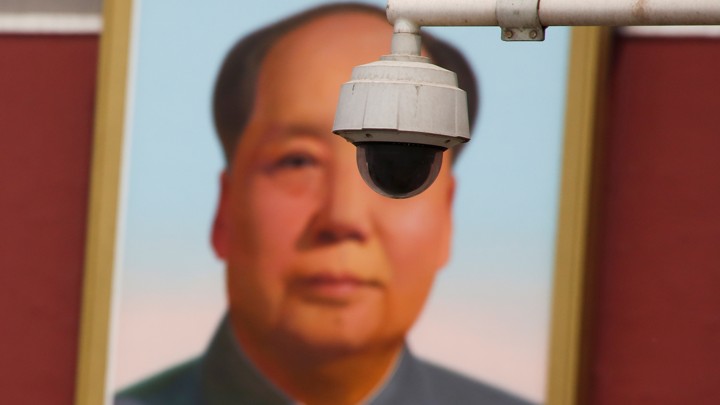 Above all, China has maintained a strong and authoritative position over the population.
Recently, China increased their interference in the privacy of their citizens with new technology.  Their new surveillance technology monitors each person using facial recognition.  Citizens are rewarded or penalized based on day-to-day behaviors that include small things such as manners, to others such as smoking.  
Citizens in good standing receive additional privileges, while others not in good standing experience fines and even travel restrictions.
Yikes.  No thank you.
Freedom of speech is not a thing in China, either.
Due process? Well, it's gotten better over the years, but the Chinese are known for imprisoning its people for virtually anything.
Example: An Author was recently sentenced to ten years in prison for writing about a gay sex scene in a book.
Religious persecution is common in China, and they are also a very nationalistic nation. (Think about their Olympic team.  Zero diversity. ZERO.)
Google is currently under intense scrutiny from its employees for agreeing to work with the Chinese government to spy on and control internet usage for its population.
When you look closely, China has more in common with Fascism than Communism at this point. (Don't tell Liberals, they'll lose their minds)
Final Nail in the Coffin of Communism in China
Karl Marx's utopian vision for society relied on the elimination of the bourgeois.  In his mind, societies that exploited the proletariat were evil and must be abolished.
The exchange of labor for a wage, in his mind, was modern day slavery. To reverse this evil system, he believes the State should distribute land equally and create a nation where no one man has anything more than any other.
Sit down, Lefties. I'm about to burst your bubble.
Currently, in China, their entire economy is driven by and relies upon the proletariat. China's economy has thrived by creating mass-produced exportable goods at prices lower than any other country in the world.
Unfortunately for the Communist, China has been able to lift more people out of poverty by eliminating Communism and implementing Capitalism.
Furthermore, I challenge any Communist, Socialist or Leftist to prove me wrong.
Until then, do yourself a favor and stop romanticizing Communism in articles that you write on your MacBook Pro from your high rise New York City offices.