Do you feel random waves of anger and uncontrollable outbursts when you witness someone is wearing a MAGA hat?  Do you often remind people that Donald Trump is not your President and Hillary won the popular vote?
If so, you may be experiencing an onset of TDS.
This medical phenomenon is baffling many doctors and they fear we are witnessing an epidemic.  As a result, a new diagnosis has emerged that helps us understand this condition on a better level.
This new medical condition is known as Trump Anxiety Disorder.
If left untreated, Trump Anxiety Disorder (TAD) will progress into the more serious and violent condition known as Trump Derangement Syndrom (TDS.)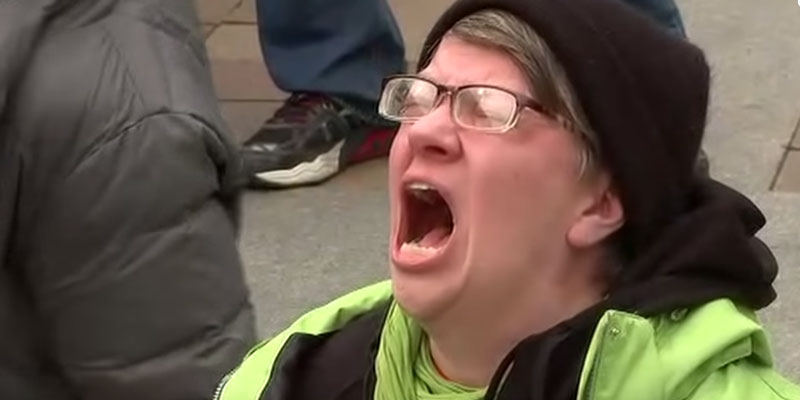 Therefore, TAD and TDS are extremely serious and potentially life-threatening diseases that require treatment as quickly as possible.
Trump Derangement Syndrome Symptoms include:
Uncontrollable crying when Hillary Clinton tries to justify why she lost the election
Rage
Thoughts of terrorism, homicide, suicide, self-harm, and socialism
Inability to cope with opinions
Sleepless nights
PTSD with possible traumatic flashbacks to November 4th, 2016
Herd mentality paired with an uncontrollable urge to go for long walks in pink hats
Complete loss of sense of humor
Violent outbursts when President Trump does literally anything
Disassociative disorder with previous Presidential legislation
Explosive diarrhea
Loss of family and friends
Paranoia
White Guilt
Soy Poisoning
Blaming everything on racism and Russian Bots
Allergy to Facts
Vandalism
Rash
Binge watching CNN
Kneeling
Making up pronouns that don't exist
If caught early, Trump Anxiety Disorder (TAD) can be treated easily and Trump Derangement Syndrome can be avoided.
Luckily, the scientific minds over at The Closet on the Right have discovered a cure!
For a limited time only, Conservitol™ is available to treat and cure Liberalism, TAD, and TDS.
Conservitol™ has been shown to cure TAD/TDS in as little as 24 hours.  Take one red pill and feel better by morning!
Our Satisfied Patients will agree!
Conservitol™ saved my life!  I know now that Republicans aren't racist and actually were responsible for freeing the slaves! – Jordan, 26 Software Engineer
I no longer blame white men for everything wrong with my life!  Now I know that I can live freely by being a strong, independant, intelligent woman who appreciates our masculine counterparts and their role in our society!  Thanks Conservitol™!
It's been 12 days since I called anyone a racist and I feel great!  I can have civil conversations again and when someone doesn't agree with me, I don't lose my mind and start bear macing people! I've recommended Conservitol™ to all of my friends.
Conservitol™ isn't for everyone.  Please consult with your doctor before starting a Conservitol™ treatment plan.
If you are pregnant or planning to get pregnant, take Conservitol™ now and save your baby's life!
Side Effects Include:
Respect for others
Patriotism
Capitalism
Personal Accountability
The ability to disagree
Military Appreciation
Happiness
Tolerance
Common Sense
Factual arguments
Sporadic Eye Rolling
Does anyone in your family suffer from TAD or TDS?  Save their life now and help them get treatment.
Conservitol™ comes in easy to swallow Kool-aid flavor pills or can easily be hidden in a piece of cheese.
Ask your doctor about Conservitol™ today!